Amanda's Welcoming Kitchen with Ten 23 Vinyl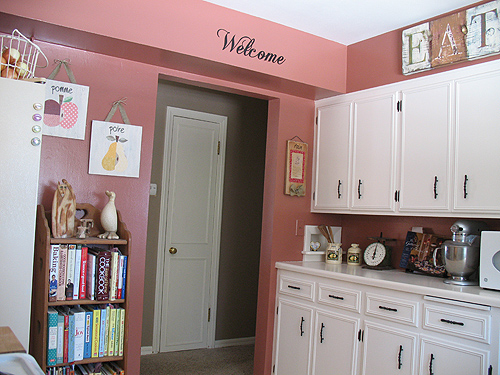 I recently had the opportunity to poke around the website of one of our newest sponsors, Ten 23 Designs. I really liked the Welcome sign vinyl and originally was going to add them to my front door along with a vinyl address number, similar to how Cheri did here. However, after further inspection of my door I decided it needed a much larger overhaul than Father Winter was going to allow, so I searched out an alternate place to apply my welcome message.
I love this house. It's full of charm and plenty of nooks and crannies for storage, not to mention a full attic that will make a rockin' game room someday. We recently decided to revamp the kitchen, but the budget wouldn't allow for anything elaborate. We chose to paint the hand built cabinets and hardware and paint the walls. I'm really happy that we did. The white cabinets really brighten up the kitchen!
The house has a few entrances, the front door, back door, and the man-door next to the tuck-under garage. We primarily use the man-door next to the garage. So when you enter our house you are essentially in the garage and then come up the stairs and right into the kitchen. The kitchen is really the first part of the house that welcomes you. So it only made sense to place this welcome sign above the doorway from the kitchen that leads to the rest of the house.
In a matter of 5 minutes we went from a plain opening to a charming and welcoming opening to the remainder of our home. I love what it added to our kitchen!
It couldn't be simpler. Use a credit card, spatula, squeegee or other flat item to make sure the vinyl is pressed to the backing. Remove the first layer, position the vinyl and use another straight edge to apply it to the wall.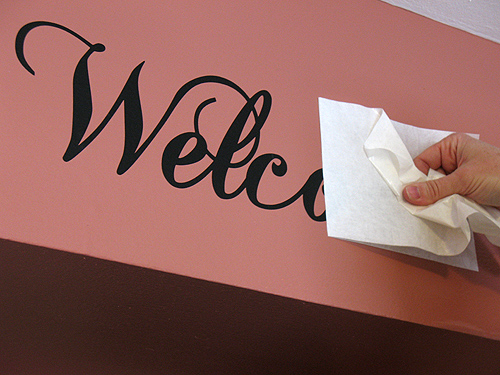 Carefully peel the backing off and you're done!
Stay tuned for what I did with the address number portion of my vinyl, I'm not done with that one yet!
If you are curious, several of my projects appear in this kitchen photo. Click the links below for each tutorial
Valentine Conversation Marble Magnets
French Fruit Wall Art
Vintage Wall Hanging Redo
Distressed Eat Sign
{ 9 comments… read them below or add one }
it looks great, amanda! i love the black against the wall color.

I too, love it! The black on your wall color is an amazing contrast. And I love your kitchen in general =)

Thanks Cassie!

I noticed all of your other sweet projects in there too…before I saw that last photo! Great message for the kitchen…it is the heart of the home, right?

Thanks Crystal and Holly! I love my kitchen. Funny thing is I had a brand new kitchen in my other house, but I didn't love it the way I do my 60 year old kitchen!

So cute! I love the wall color…I grew up in a house that was all white, so I have done a lot with paint in my house

Thanks so much Tiffany!

Love it!!! That is fantastic! I plan on doing something similar when our house is finished!!

Thanks Amy! The hubs even liked it, you KNOW it passed the test if he like it LOL
Previous post: Cheri's ten23 vinyl project
Next post: Gail's easy glass painting